Partnering with Clearnetwork
Help your clients meet their evolving cybersecurity needs while earning recurring revenue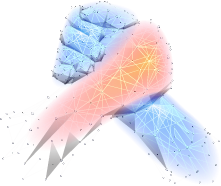 The Clearnetwork Partner Program
Our Channel Partner Program enables VARs, system integrators and MSPs to help their customers make, long-term improvements to their cyber security posture and meet compliance, while bringing you additonal recurring revenue. Clearnetwork services can even be white-labeled.
When you partner with Clearnetwork, you gain access to a suite of comprehensive cyber security services, including Managed Detection and Response (MDR), Managed SIEM, Advanced Email Security and consulting services that include services like penetration testing.
The Challenges your Customers face
Today's cyber threat landscape is immense and ever evolving, with new attacks appearing daily that continue to increase in complexity. While cybersecurity spending is increasing, many businesses have typically relied on perimeter solutions such as firewalls and antivirus that are struggling to defend against today's attacks.
To successfully minimize cyber security risk, businesses are moving away from prevention-only strategies to focus on proactive detection of threats and vulnerabilities. However, in-house cybersecurity is complex and time-consuming, requiring dedicated security experts, who themselves are in high-demand and therefore hard to acquire. To add to the complexity, compliance requirements such as the GDPR and PCI-DSS are imposing fines on businesses that fail to take security seriously.
Clearnetwork's services help you address the increasing problem of managing cyber security with limited resources. From managed detection and response to compliance consulting, our dedicated experts provide the expertise and support you need to defend your customers and grow your business.
Building long-term relationships with our partners is a priority. That's why our partner program is designed to do more than just support new business efforts – we work with you every step of the way to provide the best possible sales, pre-sales and aftercare experience to your clients
Clearnetwork's comprehensive cyber security services enable you to:
Generate new sales opportunities
Gain additional recurring revenue
Strengthen existing customer relationships
Gain access to Clearnetwork's experienced security professionals
Benefit from our sales experience and marketing material